It is quite possible to be asked to co-sign a loan by your spouse, friend, relative or business partner. This request may come as a result of the probability of you having a better credit score than they do. However, while it is honorable to offer such assistance when you can, it is important that you are careful so as not to end up in an unpalatable situation.
To co-sign a loan is to jointly sign a loan application. This serves as a kind of security for the lender especially when the other co-signer has a poor credit score among other reasons that may affect the possibility of him/her getting his/her loan approved.
However, you must understand that co-signing a loan is different from co-borrowing a loan. When you co-sign, you are only appending your signature on the application to increase your partner's chances of getting their loan approved. You are not entitled to the principal, neither are you expected to pay on their behalf. You are to serve as backup security in case they default in their repayment plan.
Co-borrowing, on the other hand, means that you both get the principal, share it on an agreed ratio, and pay it back together. When you co-sign a loan, you are legally bound to be a backup repayment source if your co-signer fails to pay- irrespective of whether you got the principal or not.
A co-signer is different from a borrower. The former only partners with the latter to ensure that the latter gets a more favorable loan term and increase the chances of accessing a higher amount of principal.
When reviewing the loan application, the lender evaluates the creditworthiness of both signers to arrive at a decision to approve or reject the application even though, only the primary borrower gets the principal and is responsible for the repayment. Where the primary borrower defaults in repaying, the co-signer becomes liable to continue the repayment exercise.
A very good example of co-signing a loan is when a parent signs an apartment lease on behalf of their child that is yet to build an acceptable credit score to secure the loan on his/her own. Although this is not a loan, first-time tenants have struggled to get an apartment as a result of an insufficient credit history amongst other factors as considered by the landlord.
In a scenario like this, the parent co-signing with their child offers the landlord some level of confidence to go ahead and lease the apartment to the said child. This is despite the fact that the rent will be paid by the child and not the parent. However, when the child defaults on the rent payment, it is expected of the parent to step up and pay. Else, their credit score may be affected.
Upon the approval of the loan, the lender drafts the terms of the loan in a clear manner indicating the interest rates, repayment structure and indicating that it is a co-signed loan. Both co-signers must also understand the loan agreement and jointly sign it. Upon signing the agreement, the primary borrower then gets the lump sum of the principal,
Clearly, co-signing a loan is highly beneficial to the primary borrower. So, when a family member, friend or acquaintance approaches you to co-sign a loan for them, you need to understand that you are literarily helping them out of a tight financial spot, and not because they are presenting you with a deal that will return profits for you. This explains why you must be sure about whoever you want to co-sign a loan for. You must understand that your details, credit score and entire finances are at stake for them. Needless to say, that your relationship with them may also be on the line. You must, therefore, be sure that they are worth such a huge risk.
Why would a borrower need someone to co-sign a loan for them?
There are different factors that necessitate the request of a co-signer for loans to be approved. Some of such circumstances are when the borrower is too young to have a credit history that is good enough to get their loan request approved when the borrower has a poor credit score or lacks a steady income.
So, when you, with a better credit history, credit score and a steadier source of income agrees to co-sign a loan application, you are telling the lender that they should not worry about the borrower's poor screening performance and trust you to ensure that the loan is paid back in full- principal and interests inclusive. As a co-signer, you are more or less serving as a guarantor for the borrower.
What types of loans can be co-signed?
Some of the types of loans that allow a co-signer to be approved are student loans, home improvement loans, car loans, personal loans, credit card loans and some forms of mortgage loans.
Advantages of co-signing a loan.
It can help build your credits. If the loan is adequately on time, the co-signed loan appears in your credit report and reflects positively on the same report since the borrower has been responsible for the refund. Except of course, if your credit score is already great, then the impact may not be as obvious as it would have been if the borrower performs poorly.

A co-signed loan is also great for your credit mix. Generally, having credits from different sources and being able to handle them all is great for your credit report. So, even though you are not the direct beneficiary of the loan, it contributes to your credit mix and is generally good for your report.

You enjoy the satisfaction of being able to help someone out of their dire financial situation. It is great to be able to help when you can. Therefore, you are helping that family/friend of yours to secure a loan that they naturally wouldn't have been able to get.

When the borrower makes payment on time, it is an avenue for them to build a good credit score. That way, they wouldn't need to run from pillar to post, seeking a co-signer in the future. Especially for young borrowers that are yet to build a report, this is a great way to start their credit journey.

If all parties involved carry out their functions as they ought to, co-signing a loan may foster the existing relationship between both co-signers. The borrower may feel indebted to the co-signer and will not hesitate to help in the future when the need arises.
Disadvantages of co-signing a loan
You may have to pay back the loan. If for any reason whatsoever, the borrower fails to pay back the loan, you are expected to carry on the repayment plan until you are able to make them accountable. This may be a tedious task, especially if they don't care about putting you in a financial mess.

While the loan appearing in your credit report may be a good thing, it may also be bad for you. If the borrower treats the repayment agreement badly, it reflects in your credit report and such an occurrence may affect your rating and likely blow your chances of grabbing life-changing financial opportunities in the future.

You may find yourself in a legal mess. Agreeing to co-sign a loan for someone is agreeing to be legally involved in the transaction. Therefore, if the loan gets bad, the lender can choose to sue you and the court will not hesitate to make you make a 100% refund of the debt including the legal fees.

Co-signing a loan is capable of making your relationship with the borrower irrespective of how old) turn sour. Money is capable of doing that. This is why all parties involved must understand their obligations and not hesitate to carry them out.
Things to consider before you co-sign a loan
       

Co-signing a loan may affect your chances of getting other credits approved for you. This is even if the primary borrower does not default in the repayment. Remember that the details of the co-signed loan are updated in your credit report. So, when you decide to apply for a credit for yourself, the lender sees the co-signed loan as one of your financial obligations even though you are not actively repaying the loan at the moment.
They, therefore, would see approving another credit for you as multiple credits and wouldn't want to risk it at the moment.  Although, if you have a great credit score, you may not have to worry about this concern.
       

If co-signing a loan for the borrower requires that you pledge a property, you must understand that you stand to lose the said property if the borrower defaults to repay. Sometimes, the lender may ask that you pledge properties like cars, jewelry, furniture amongst others. This is a risk on your part as a co-signer and you must understand that.

       

Generally, the type of co-signers that lenders love to see are those whose credit reports are endowed with a great credit score, a long credit history with consistent and on-time payments, with no dent whatsoever. If you have all these, are you willing to risk them all to co-sign someone else's loan? A loan that is not directly beneficial to you. Are they worth sacrificing your lifetime credit report for?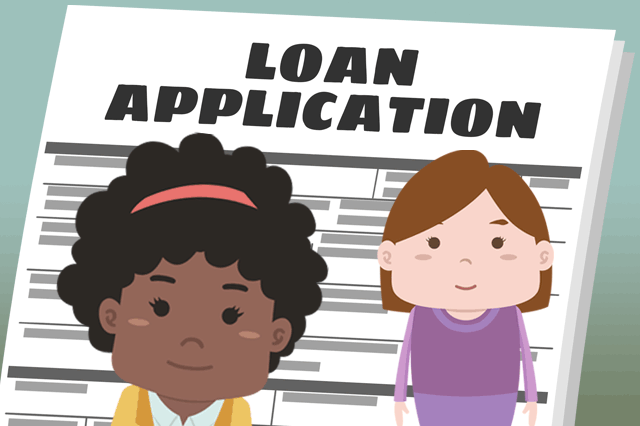 How do I protect myself while co-signing a loan?
If you decide to go ahead with co-signing a loan for that friend or relative of yours you may take the following steps to ensure that you remain financially protected;
       

Ask the borrower how they intend to pay back the loan. If possible, let them show you their monthly budgets which of course, must include the repayment plan. Also, you must ensure that the amount that they wish to pay back monthly is one that you can afford to step in and pay for them in case they default as a result of job loss, change in financial status as well as any other factor that may affect their commitment.

       

You can ask the lender for a monthly review of the loan performance. If possible, there should be a written agreement that mandates the lender to contact you if the borrower misses a payment, pays late or there is a change in the loan terms. Doing this will help you protect yourself swiftly in case of a payment default.

       

Make sure you understand the loan terms involving you concerning default in the repayment plan. If for example, the borrower fails to pay, what percentage are you expected to pay back? Are you to pay everything or the amount that the borrower missed for the affected month(s). do not live anything to assumption. All terms must be clearly and expressly spelled out.

       

Engage the borrower in regular communication about the loan. As a co-signer, you cannot say that you are minding your business. Until the loan is repaid in full, it is your business. So, at intervals, get updates about the loan from the borrower. Enquire on how they are faring, if the loan terms have changed among other questions to ask. This may help give you a hint of trouble before it becomes too late.

       

Regularly check your credit report. Reports don't lie. If either of the borrower or lender is keeping any information away from you- especially one that may affect you directly, your credit report will reveal to you. And this can only be possible if you regularly check it. This will also help you to be proactive to salvage any unfavorable situation that may likely arise.

       

Check the law in your locality for more co-signer protection. These laws may differ from state to state. Therefore, confirm from your state's banking agency or attorney general on the steps you need to take to protect yourself, even as you co-sign a loan. This is to ensure that you are adequately covered and do not depend on a non-existent law (at least in your locality).