In our previous post, we talked about, "Why you should watch out for payday loans." 
This summer, Fair Isaac Corporation will implement new versions of its FICO scores. Millions of consumers could be affected. An estimated 40 million Americans will see their FICO scores decline.
Does this mean that your FICO score could go down just because you're changing the method for calculating it? Unfortunately, yes, that's the way it is.
Read on to find out what changes will come into force and understand their potential impact. In addition, we will introduce you to some techniques to mitigate the adverse effects of the new scoring rules, but first of all, let's answer a fundamental question.
What is the FICO score?
FICO scores are based on credit reports issued by credit bureaus. Equifax, Experian, and TransUnion, the lead agencies, collect financial information from various sources. 
Here are some of the data they compile:
Your payment history: Do you pay your credit card bills before the due date? And your mortgage? Payments made on time increase the FICO score. Late payments have the opposite effect.

The amounts you owe: Taking on excessive debt can reduce FICO scores. It is best to keep the amount of any loan within reasonable limits.

Duration of your credit history: If you have a good payment history over an extended period, your FICO score will be positively affected.

The types of credit you use: A combination of credit accounts (for example, a credit card, mortgage, car loan, and student loan) can generate higher FICO scores. The opposite is true in the reverse situation: borrowing from a single source leads to a lower score.

New credit: If you suddenly purchase multiple new credit cards, your FICO score could be affected. Applying for various sources of credit simultaneously can lower your score.
Credit scores run a fair amount of the population's financial history, records, and transactions. FICO scores are scores a financial establishment presents to a client determining their eligibility to apply for advances. These credits depend on a client's age, how responsible they are towards finance, what kind of job a client has, and how stable the job in question is. 
Credit card companies use these scores to apply for credit from advanced companies. The client's score would determine the interest prices and the allowed duration of the loan. This article will teach you how to lower your FICO score.
FICO is one of the most used credit card companies in America. Created by Bill Fair and Earl Issac in the late 1950s, it has become one of the most competent and reliable money lending credit card companies. They analyze credit card scores expertly. Many Americans patronize them, and they seem like they would be leading the market for a long time to come.
Myths And Misconceptions
However, many clients frequently misunderstand FICO and other credit card companies. There are a lot of misconceptions and myths that clients have towards credit and credit card scores. 
One of the most misunderstood facts that cost clients a lot is interest prices. Clients commonly think that credit card companies fix these prices, and they cannot change them at any point in time. 
They indeed fix them, but they are not permanent. Financial establishments can peacefully negotiate interest prices with a client.
There is a consequence to a client not knowing about this crucial fact. It makes clients responsible for shouldering high-interest prices, regardless of their current credit card scores.  
History Of The Fico Credit Score
This credit card company was created in the late 1950s by Bill Fair and Earl Issac. They initially called their establishment Fair, Isaac, and company, but they altered their name to the Fair Isaac Corporation at the beginning of the 21st century. 
Finally, they changed their name again in the late 2000s, called FICO. Their headquarters is situated in San Jose, California, and they had 3,358 employees as scouts recorded in the late 2010s.
They have an excellent credit score system and have led financial standing score companies. FICO analyzes a client's credit card score based on several factors. 
These factors include how old the client is, how well they have their debt and finances under control, and how long they have been using credit card companies.
How To Increase Your Fico Credit Score
1. Clients should make sure they reimburse their credit cards on time. 
When a client practice this proper step, they not only feel better and less stressed, it also allows them to improve their FICO  score drastically.
2. Clients should always ensure they reimburse their utility credit cards 
In addition to the positive effects of compensating credit cards, repaying utility credit cards would give a client a chance of getting bonuses in their FICO scores.
3. Do not be afraid to purchase commodities with FICO
Many clients tend to get scared of using loans to buy something. However, it is nothing to be scared of. Regularly using FICO credit card would gradually but surely increase your overall FICO credit score. Clients who do not use any form of credit card companies are more likely to have low FICO scores.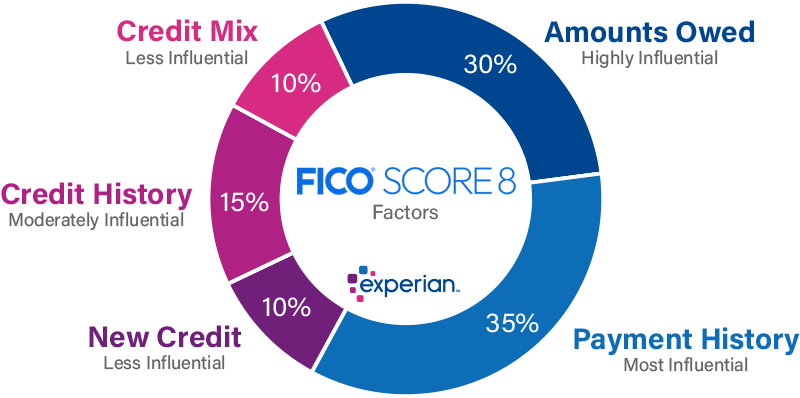 4. Do not open too many unnecessary Credit Cards
This is because opening new credit cards makes the client liable for lower FICO scores. 
Opening too many credit cards makes a client responsible for paying different fees on all the credit cards. These fees include rotary fees, opening fees, card maintenance fees, and unnecessary documentation fees. 
Consequently, this would lead to a higher yearly fee because the client is unlikely to keep up with all the expenses due to a lack of funds or an oversight.
What Not To Do
There are many ways a client can reduce their FICO score. They could be voluntary reasons or unintentional ones.
Do Not Make Unnecessary Purchases on credit.
We know that so many temptations come about when credit cards are involved. A new car is always what a client wants to get, even though nothing is wrong with his current vehicle, or there is a new fashion choice that has to be tested and tried out just to fit into the crowd, there is also that new house to buy and be forced to mortgage new frivolities. 
Such commodities bring satisfaction to the customer but is not a necessary purchase to make.
They would likely attract high fees and would become more tedious to reimburse. Consequently, this would reduce a client's FICO score due to inability to repay loans on time.
2. Never get a mortgage On Credit
This is a very unwise decision to make, and it can quickly cause a client's FICO score to deteriorate. This decision does this by attracting high-interest prices and compounding interest over time.
 This would not only make a client's FICO score low, but it would also leave a client in debt.
3. Clients should never pay tuition On Credit
Like a mortgage, it can drastically reduce a client's credit score, but unlike getting a mortgage on credit, it has an enormous interest price.
If they are not paid in time, they could potentially get higher. Since many clients cannot reimburse this loan faster, the interest price would increase, reducing a client's credit score.
What does this increase in average FICO scores mean?
The U.S. economy has improved over the past 10 years. This is the longest expansion in history. Unemployment is at a 50-year low. 
Consequently, consumers have more money and find it easier to repay the loans they have taken, but that could be about to change. David Shellenberger, vice president of scoring and predictive analytics at FICO, explains: "Some lenders foresee problems soon in terms of consumer performance…"
For lenders, taking a loan is going to be riskier."
So how does FICO plan to address the "increased risk" it foresees? You are replacing the existing version of your credit score – Fico 9 – with the Fico 10 and Fico 10 T versions. 
These new versions will give greater importance to personal loans. A person who consolidates all of their debt into a personal loan and then accumulates more debt can expect to see a drastic decrease in their FICO score.
What other changes will there be?
The FICO 10 T version shall consider data extracted from the latest trends observed in consumers. An individual's credit information over the past 24 months will be analyzed and used to predict future behaviour. 
This way, a person who has been paying off their debts on time in recent months could expect an improvement in their score. But if you've accumulated more debt in the more recent past, you can expect a decrease in your score.
These are other changes that will characterize the new versions:
If you delay making payments to your lenders, your credit score will be more seriously affected than in the past.

Similarly, accumulating more debt and more loans will result in a more significant drop in your score.

Taking out a personal loan could be one factor that most negatively affects your score.

If you already have a score of 680 or higher, and you continue to be financially responsible, your score could increase at a higher rate.

You could be penalized for using a higher proportion of your credit limit.
How might all this affect you?
If you already have a good FICO score, implementing the changes could make it even better. However, if your score is in the lowest range, it could decrease. If this happens, the repercussions could be severe. Here are some of the possible consequences:
Your loan application may not be approved.
Most lenders look at credit scores before approving a loan application. That's why a lower score could jeopardize your chances of getting approved.
The cost of acquiring new debt could also increase: Financial institutions often set the interest rate on their financial product based on the applicant's credit score. For example, credit card interest rates currently range from 16.56% to 23.68%. 
A lower credit score could mean that your credit card will have an interest rate at the high end of this range.
How can you mitigate changes in FICO scores?
Don't worry too much about the changes FICO is implementing. You can take simple steps to mitigate them. If you implement them, you'll be able to maintain your credit score and even improve it.
Here's what you can do:
Don't be late on your loan payments: Remember that your payment history represents 35% of your FICO score. You should do your best to pay your bank or the financial institution you've taken the loan from on time. That will increase your score in no time!

Examine your credit report for errors: You should read your credit report carefully. It could contain mistakes. Also, keep in mind that you can remove a late payment from your credit report under certain circumstances.

Don't use your entire credit limit: Maximizing your credit cards is never a good idea. It can result in a considerable decrease in your credit score. Ideally, you should limit the use of your cards to 30% of your total credit.

Understand the difference between exhaustive and non-exhaustive credit inquiries(hard and soft pull): A non-exhaustive consultation does not affect your credit score. This happens when, for example, an employer verifies your credit history or when you verify it yourself through tools such as Credit Karma.
However, applying for a new credit card or car loan will require a thorough consultation by the card provider or lender. 
Too many such queries in a short period can reduce your score. If you authorize someone to check your credit score, ask if they will make a thorough or non-exhaustive inquiry of your credit.
Limit the amount you borrow: A loan of an excessive amount can lower your credit score. Try to minimize the loans you take and the amounts they entail. And remember that having multiple personal loans can seriously damage your score, so be careful.